Martin Hood
Marwell Zoological Park
50° 59′ 27.40″ N
1° 16′ 46.54″ W
"Pirtek offered the best solution and completed the job in no time at all with a minimum of disruption. They were a highly professional and efficient team."
Service Coordinator
Anglian Water
51° 44′ 52.67″ N
0° 31′ 6.84″ E
"Pirtek has been our preferred supplier for many years, providing services to various locations in our network. Their H&S standards and their ability to comply with our strict requirements are a key factor in choosing Pirtek."
Dave Bold
Cemex UK
51° 31′ 57.61″ N
0° 8′ 6.00″ E
"Pirtek have been a long-term partner for us and will continue to be in the coming years. Their response times are great."
Richard Cook
Breedon Concrete
51° 40′ 0.33″ N
0° 1′ 27.62 E
"Everything is great with their service. Their quality, availability and responsiveness didn't change throughout the various lockdowns and their high standards are consistent across the country."
Steve Bishop
Syd Bishop & Sons
51° 22′ 58.37″ N
0° 8′ 7.64″ E
"As a national company we find ourselves working from anywhere. It's reassuring to know that wherever we go, the same reliable Pirtek service is just a phone call away."
Byron Bucket
Ground Fleet Support
50° 30′ 16,24″ N
2° 41′ 47.64″ N
"They provide excellent service and are always there for the odd emergency. I can cope with the demands of the airport because I have Pirtek when I need help."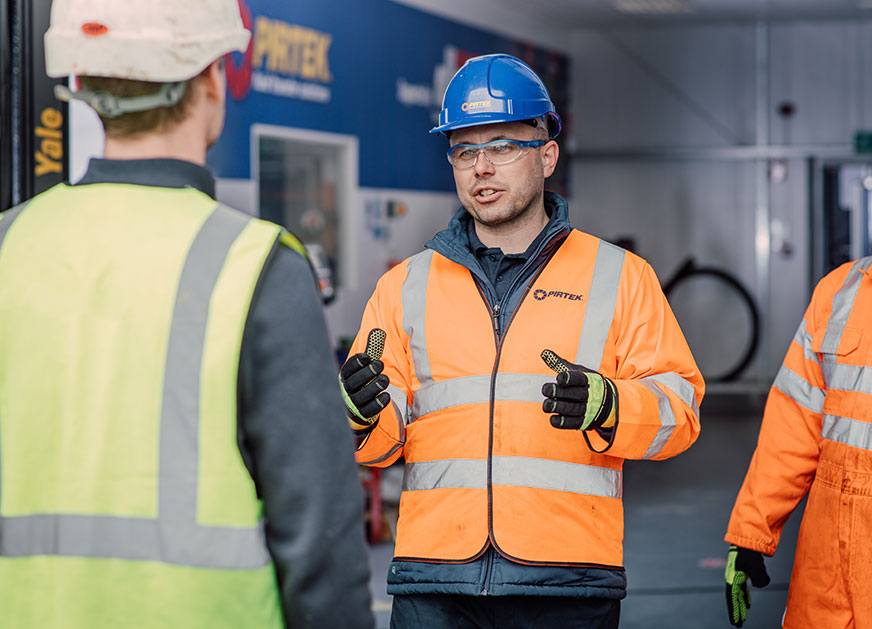 Why Pirtek?
With 86 centres across the UK and Ireland, no company has more hydraulics expertise than Pirtek, and we proudly set the industry's benchmark when it  comes to Health & Safety and training of our staff. When an emergency strikes, our technicians can be on site to replace a hose in just one hour, while our Total Hose Management and custom hose design offer everything you need to keep your business moving.
Discover more
Pirtek Customer Portal
A place for all your hydraulic hose management needs, 24/7, that offers end to end job management at your fingertips and more. It's a complimentary platform we developed hand in hand with our customers.
Find out more
Product catalogue
From clips and clamps to quick release couplings, you'll find a professional range of hydraulics parts and products in stock at each Pirtek centre nationwide.
View all products