24/7 emergency on site hydraulic services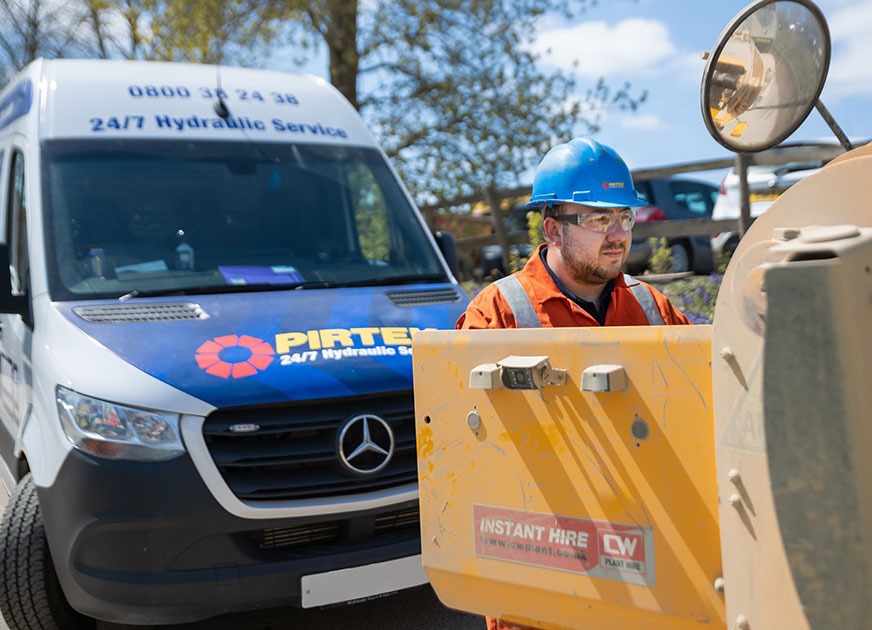 Minimising downtime to your business with our 24/7 emergency hydraulic service
In a hydraulic emergency, you can count on Pirtek's 24/7 emergency hydraulic service to have you covered. Our strategically located mobile response units mean we're only ever an hour or so away if the worse should happen, wherever in the UK or Ireland you're based.
Key features
Here for you 24-hours a day, seven days a week.
Operational 365 days a year – no exceptions.
On site within an hour of receiving your call.
Full hose replacement every single time.
86 local centres ready to dispatch a mobile unit to your location.
Qualified technicians, proficient in hydraulic hose replacement.
Quick turnaround – most jobs completed in under four hours.
A 96% first time fix rate.
Nationwide coverage across Ireland and the UK.
Minimal downtime to your business.
No job too big or too small.
Always a Pirtek technician – never a subcontractor.
Always around an hour or so away
Day or night, come rain or shine, our network of hydraulic experts will be at your service when you call. Having 86 regional locations means we can usually arrive anywhere in the UK and Ireland in just one hour. What's more, we operate 24/7, 365 days a year, so you can always count on Pirtek to come to your rescue.
Getting you moving - fast
With our 24/7 emergency hydraulic service not only are we able to reach you faster than anyone else, our policy of 'maximum coverage, minimum downtime' extends to our repairs times too. In fact, along with a 96% first time fix rate, we aim to complete an emergency hydraulic hose repair within just four hours, ensuring you're back up and running in no time.
Martin Hood
Marwell Zoological Park
50° 59′ 27.40″ N
1° 16′ 46.54″ W
"Pirtek offered the best solution and completed the job in no time at all with a minimum of disruption. They were a highly professional and efficient team."
Steve Bishop
Syd Bishop & Sons
51° 22′ 58.37″ N
0° 8′ 7.64″ E
"As a national company we find ourselves working from anywhere. It's reassuring to know that wherever we go, the same reliable Pirtek service is just a phone call away."
Byron Bucket
Ground Fleet Support
50° 30′ 16,24″ N
2° 41′ 47.64″ N
"They provide excellent service and are always there for the odd emergency. I can cope with the demands of the airport because I have Pirtek when I need help."