The integration of hydraulics within modern agriculture has revolutionised farming operations, transforming the way farmers work, boosting efficiency, productivity, and precision. Yet, with high volumes of produce to distribute, domestically and internationally, unplanned downtime through hydraulic failure can be costly. Thanks to unpredictable weather patterns, this is especially the case during growing season and harvest-time when timing is crucial to sow and harvest crops. That's why it is crucial for equipment to be up and running again as quickly as possible.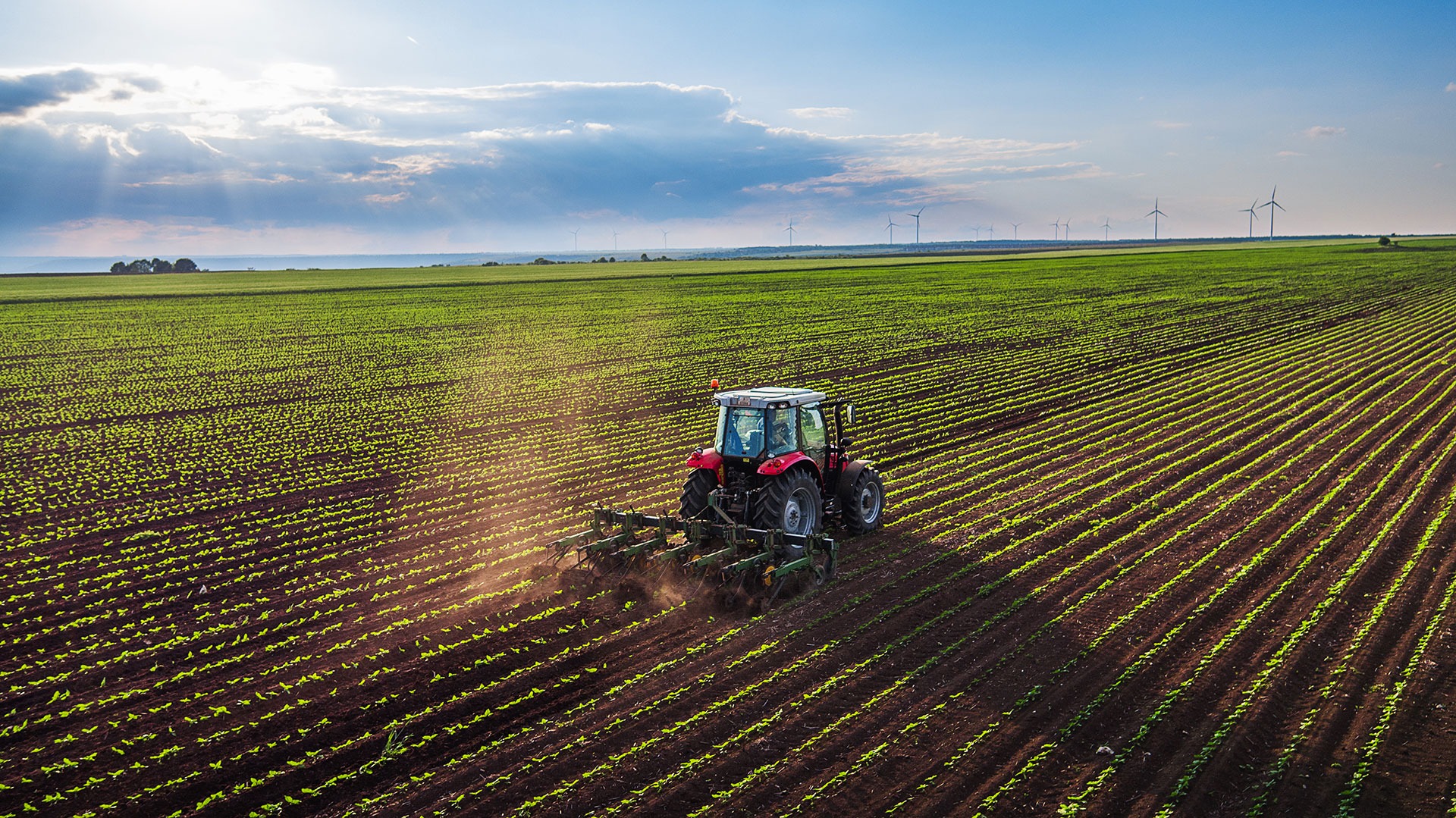 How are hydraulics used in agriculture? 
Hydraulics is a branch of science that deals with the mechanical properties of fluids, particularly the transmission of force through pressurised fluids. In the world of agriculture, hydraulics involves the use of fluid power to operate machinery, control implements, and perform various tasks on the farm.  
Here are a few examples of the types of machines using hydraulic systems in agriculture: 
Tractors

 

Harvesters

 

Sprayers 

 

Track loaders

 

Irrigation systems 

 
These systems consist of hydraulic pumps, cylinders, valves, and hoses that work together to transmit and control power.  
There are specific times of the year where hydraulic equipment is relied on by farmers to support the work they do. A typical farming calendar is split into seasons and used as a working schedule.  
Winter – At this time of year, farmers are usually busy ploughing fields which can be difficult due to reduced daylight time. This will involve the use of a hydraulic-powered plough which is attached to the tractor as well as the use of a harrow to break up the soil and a cultivator to loosen the soil – all in preparation for Spring. January and February are the ideal time for machine maintenance duties to be carried out. As temperatures become milder, tankers, spreaders, and agitators will be used to as part of the slurry spreading process to ready the soil for planting crops. Slurry season will normally tick into March along with the sowing, fertilising and spraying of some crops.  
Spring – After lambing season, Spring usually revolves around livestock for many farmers, and hydraulic powered machinery such as spreaders will be used to fertilise grazing fields. In the month of May, crop spraying, muck spreading and all-round maintenance and repair work will also occur. The haymaking process will also begin and be carried out throughout June, requiring the use of balers, rakes, mergers, cutters, handlers and wrappers – all of which use hydraulics.  
Summer – An exciting time for farmers as they will be showcasing their livestock at various fairs and events. Haymaking and silage collection will continue and crops such as potatoes will be treated with pesticides. Combine season for cereal crops will also commence. Key hydraulic components in a combine harvester include a cutting header that cuts standing crop and a threshing drum to separate the grain from straw. Conyers, augers and grain tanks are also powered by hydraulics, enabling smooth grain flow and convenient unloading. As the season draws to a close, harvesting will be in full flow in September, with ploughing and cultivation work kicking back into gear. Drilling and sowing will also begin on barley and winter wheat.  
Autumn – Crop farmers will be hard at work cultivating and drilling wheat ready for the new year. Crops such as potatoes and sugar beets will also be harvested, however, this requires specialist machinery to efficiently support the digging, separation, and collection process. Hydraulic equipment required for the harvesting of potatoes, for example, includes potato harvesters, windrowers, conveyer systems, and sorting and grading machines. With Winter fast approaching, wheat drilling will continue until mid-November and many farmers will use this time to also plough and prepare their fields ahead of the new year.  
The evolution of hydraulics in farming 
Hydraulic machinery has been used within agriculture for centuries, with evidence dating back to ancient civilisation. Early hydraulic machinery primarily focused on water management, irrigation, and power generation rather than specific machinery as we understand it today. The industrial revolution played a significant role in the application of hydraulic power in agriculture, and developments in technology and machinery have continued into the 21st century.  
Important milestones include: 
18

th

– 19

th

century – agricultural machinery such as the hydraulic press, hydraulic rams, and hydraulic pumps were developed.  
Early 20

th

century – tractors began to be fitted with hydraulic systems in the early 1900s to power various farm implements including ploughs and cultivators. 
Mid-20

th

century – the development of hydraulic excavators revolutionised earth moving and land development in agriculture. 
Late 20

th

century – advances in technology led to the development of more specialised equipment such as hydraulic sprayers for crop spraying and hydraulic motors for power harvesting equipment. 

 
The benefits of hydraulics in agriculture machinery  
Hydraulic have revolutionised the way farming tasks are performed, increasing efficiency, and boosting productivity. Here are eight advantages to hydraulics in agriculture.  
Power and versatility

 
Hydraulic systems provide high power and force making them suitable for a wide range of agriculture applications. They can efficiently handle heavy loads, operate machinery, and perform tasks such as lifting, digging, and pulling.  
Precision

 
By adjusting flow rates and pressure levels, farmers can fine-tune the performance of equipment like tractors, harvesters, and sprayers. This precision helps optimise productivity and helps minimise waste. 
Increased efficiency 

 
Hydraulic systems transmit power through fluid under pressure. This design minimises energy loss during transmission, resulting in improved efficiency compared to mechanical systems. It also delivers faster response times enabling the swift and accurate operation of machinery.  
Adaptability

 
Hydraulics can easily be integrated into existing agriculture equipment or retrofitted onto older machines. This adaptability allows farmers to upgrade their machinery without significant modifications or replacements, saving both time and money.  
Safety

 
Features such as pressure relief valves and overload protection mechanisms help prevent equipment damage and sure the safety of operators. Hydraulic components are also less prone to overheating or damage from overloads, increasing overall system reliability.  
Durability and low maintenance

 
Known for their durability and resistance to harsh environment conditions, hydraulic systems can withstand exposure to dust, moisture, and extreme temperatures, making them suitable for agricultural use. They also typically require less maintenance than mechanical systems, resulting in reduced downtime and lower operating costs.  
Productivity 

 
By harnessing the power of hydraulic systems, farmers can accomplish tasks more quickly and efficiently. Hydraulic machinery can handle larger workloads, perform multiple functions simultaneously, and operate in challenging terrain, leading to increased productivity and improved crop yields.  
Cost-effective

 
Whilst hydraulic systems may require high upfront investment, they are cost effective in the long term. The efficiency and durability of machinery can lead to reduced fuel consumption, lower maintenance expenses, and longer equipment lifespan, helping farmers to save on costs. 
Our specialist agriculture solutions 
Whether it's a replacement slurry hose or a new bauer coupling, we supply and fit an extensive range of products unique to agriculture machinery requirements. We also understand that downtime can cause significant disruption to both you and your customers, which is why our network of industry-leading, highly trained service technicians can be dispatched to your location in less than one hour. Learn more about how we help keep the agriculture industry moving here. 
To find your nearest Pirtek centre in the UK or Ireland, use our free postcode checker or call us today on 0800 38 24 38.