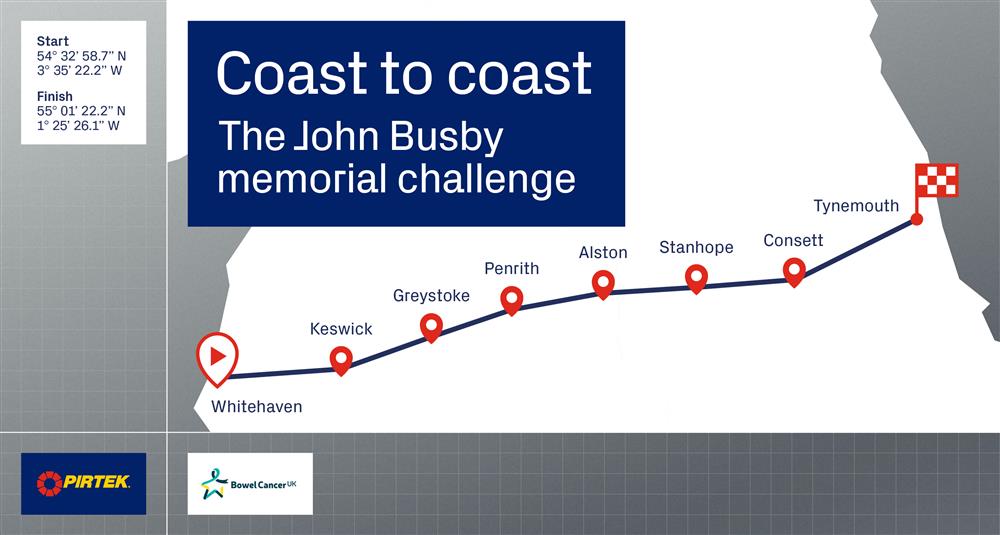 Over 42,000 people are diagnosed with bowel cancer every year in the UK and 2,819 in Ireland. It is the fourth most common cancer in the UK and the  second biggest cancer killer. John Busby, a beloved member of the Pirtek family, was taken from us as a result of this disease and to honour his memory, we are completing the Coast to Coast cycle challenge from 3rd to 4th September 2021. We have set ourselves the challenge of raising £10,000 to donate to Bowel Cancer UK, a charity dedicated to saving lives and improving the quality of life of everyone with bowel cancer.
We have teamed up with some incredible sponsors, including Hydraflow, Allswage UK, Filtertechnik, Antech Hydraulics, ADT Flexibles, Hydrotechnik and Flowtech. All of these companies have made generous contributions and have helped kick start our journey towards achieving our challenging £10,000 fundraising goal.
From 3rd to 4th September, we will be cycling all the way from Whitehaven in West Cumbria to Tynemouth in Northumberland. This route is a notoriously difficult one, so our team has already begun training in preparation for this mammoth task. We are sharing regular training updates on our social media platforms, so if you'd like to keep up with our preparation for the event, check out Pirtek UK and Ireland on all the major platforms!
Bowel Cancer UK is an incredibly dedicated charity and we are very proud to be fundraising for such a worthy and important cause. If you would like to donate, please click the blue 'Give Now' button and follow the instructions.
Give now
"We are so grateful that Pirtek UK and Ireland are taking on this 200km cycling challenge for the charity. Bowel cancer is the UK's second biggest cancer killer, and it's only through the support of amazing organisations like Pirtek UK and Ireland that we can continue to save lives and improve the quality of life of everyone affected by bowel cancer.

Luke Squires

Director of Fundraising at Bowel Cancer UK