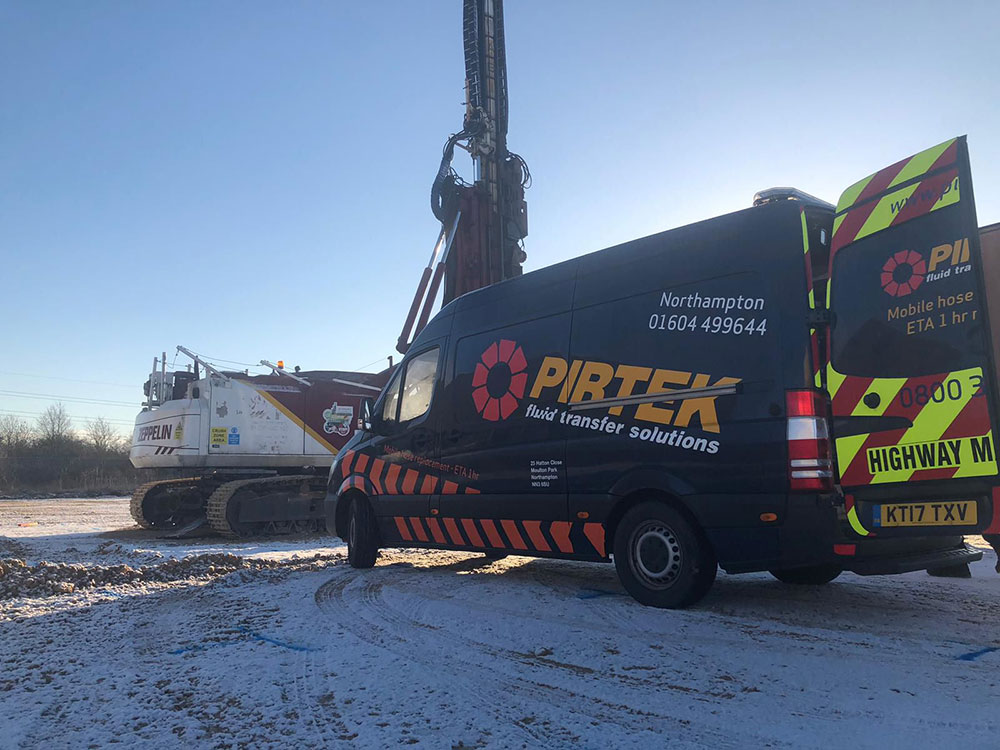 Keeping piling moving
The piling industry forms the basis of construction, providing the essential foundations without which a project would collapse. As such, hydraulic failure can risk timescales and incur potential penalties. We help to minimise downtime and put things right fast, with a nationwide one-hour response to hydraulics breakdowns.
Servicing your exact specifications
Pirtek trade counters stock a wide range of hydraulics components and high quality hoses. We also offer a custom service at each of our locations, offering made-to-measure solutions, where off-the-shelf isn't appropriate. All hoses are flushed prior to fitting and we also keep a record in case of future repairs or replacements.
Experts in piling hydraulics
Industry leading ISO certification and only warranted parts.
Emergency on-site hydraulics service, 24/7 nationwide.
Bespoke hydraulic manufacturing and hose flushes before fitting.
Oil testing and fluid analysis on-site, to assess cleanliness levels.
Martin Hood
Marwell Zoological Park
50° 59′ 27.40″ N
1° 16′ 46.54″ W
"Pirtek offered the best solution and completed the job in no time at all with a minimum of disruption. They were a highly professional and efficient team."
Steve Bishop
Syd Bishop & Sons
51° 22′ 58.37″ N
0° 8′ 7.64″ E
"As a national company we find ourselves working from anywhere. It's reassuring to know that wherever we go, the same reliable Pirtek service is just a phone call away."
Byron Bucket
Ground Fleet Support
50° 30′ 16,24″ N
2° 41′ 47.64″ N
"They provide excellent service and are always there for the odd emergency. I can cope with the demands of the airport because I have Pirtek when I need help."
Do you have any questions or would you like to know more?
Fill up the form and one of our experts will be able to assist.