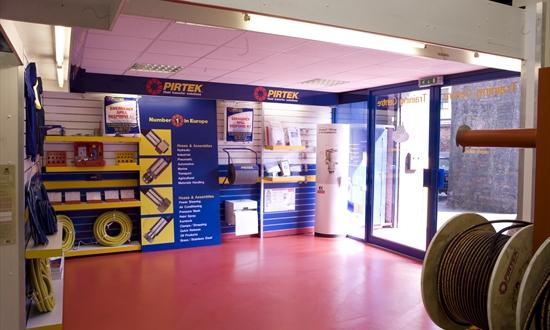 Reading
Our on-site emergency service is available 24/7
About our service centre
Welcome to Pirtek Reading, we are the number one hydraulic solution and onsite repair provider amongst a group of Pirtek centres in Berkshire region.
Pirtek's mission is to provide the fastest and most convenient service available, 24 hours a day, 365 days a year. Offering a comprehensive range of hydraulic solutions, products & services to industries including: Agriculture; Automotive; Construction & Plant Hire; Defence; Environmental; Services; Manufacturing; Marine & Offshore; Material Handling; Mining & Quarrying; Transport & Logistics; Utilities.
At Pirtek Reading, we have four fully equipped mobile service units, operated by our fully qualified engineers, who are trained to the highest standards.  In addition we have a fully stocked trade counter operating from 8:00 to 17:00 Monday to Friday and 08:00 to 12:00 Saturday, supplying  all types of hydraulic hose, a wide range of hydraulic and engine oils, oil spill products, pneumatics and industrial hose.  We also have 'machine shop' facilities to make custom solutions for all types of hydraulic adaptors, power steering pipes and hoses, and air conditioning hoses.
On-site emergency service: available 24/7
Trade counter opening hours:
Martin Hood
Marwell Zoological Park
50° 59′ 27.40″ N
1° 16′ 46.54″ W
"Pirtek offered the best solution and completed the job in no time at all with a minimum of disruption. They were a highly professional and efficient team."
Steve Bishop
Syd Bishop & Sons
51° 22′ 58.37″ N
0° 8′ 7.64″ E
"As a national company we find ourselves working from anywhere. It's reassuring to know that wherever we go, the same reliable Pirtek service is just a phone call away."
Byron Bucket
Ground Fleet Support
50° 30′ 16,24″ N
2° 41′ 47.64″ N
"They provide excellent service and are always there for the odd emergency. I can cope with the demands of the airport because I have Pirtek when I need help."
Can't find what you're looking for?
For over thirty years our hydraulics experts have been helping to minimise downtime and keep the UK and Ireland moving with emergency hose replacement, planned maintenance and custom design solutions. If you can't find what you need, we're confident we can. Send us a message and one of our technicians will be in touch.
Get in touch