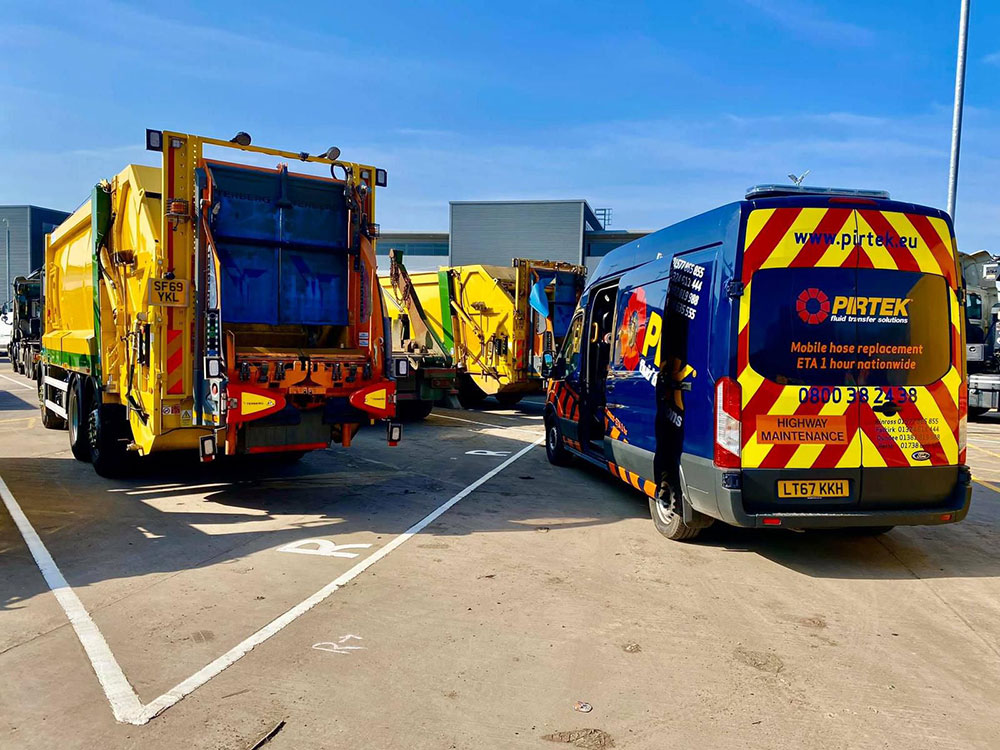 Keeping environmental services moving
Whether you need to dispose of harmful waste or rid a site of contamination, Pirtek can help. Our technicians are proficient in the safe handling of toxic waste and clean-up solutions. Each of our 86 centres is equipped to dispose of materials responsibly, while our one-hour callout times means we can be with you fast when you need us.
Environmental services that never stop
Day or night, our specialist technicians are ready to support you with their environmental skills and expertise. We provide 24/7 on site call outs for skips, RORO containers, medical waste collection and incinerator scrap, along with recycling materials such as copper, aluminium and plastic into new commodities that can be reintroduced into the manufacturing chain.
Experts in environmental services hydraulics
24/7 call-out support for environmental services industries.
Customers include Veolia, Sims Group and Specialist Fleet Services.
Hoses are tagged for traceability, controlled maintenance and identification.
Extensive range of recyclable materials and toxic waste collected.
Ray Osbourne
SIMS Group UK Ltd
52° 6′ 42.63″ N
1° 46′ 29.34″ W
"I use Pirtek solely for all my site hydraulic requirements on the 6 machines, called Pirtek Nottingham out the other night, shift last week for a burst hose, you got there promptly and got the job resolved quickly as always."
Martin Hood
Marwell Zoological Park
50° 59′ 27.40″ N
1° 16′ 46.54″ W
"Pirtek offered the best solution and completed the job in no time at all with a minimum of disruption. They were a highly professional and efficient team."
Steve Bishop
Syd Bishop & Sons
51° 22′ 58.37″ N
0° 8′ 7.64″ E
"As a national company we find ourselves working from anywhere. It's reassuring to know that wherever we go, the same reliable Pirtek service is just a phone call away."
Byron Bucket
Ground Fleet Support
50° 30′ 16,24″ N
2° 41′ 47.64″ N
"They provide excellent service and are always there for the odd emergency. I can cope with the demands of the airport because I have Pirtek when I need help."
Do you have any questions or would you like to know more?
Fill up the form and one of our experts will be able to assist.